I had no sooner finished writing about Hate Crimes against Gay men in St. Maarten; when I read that we have more hate in our own backyard...... is it ever going to end?

(Fort Lauderdale, Florida) The beatings of two gay men in separate attacks in Fort Lauderdale has the LGBT community on guard and the tourist industry worried.

Both attacks occurred in the gay-friendly Northeast area and one involved a tourist.

Police say they are not ready to say the two attacks were the work of the same person but note there are similarities.

The first attack involved a gay man who was riding his bicycle. When he passed a man walking a pit bull the man yelled a gay slur and then beat him.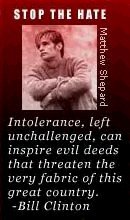 "He came up behind me and kickboxed me in the neck," the victim told WPLG television. The attacker left the scene and the victim called police on his cell phone. Before police arrived on the scene a white car came around the corner and drive straight at him.

"I was standing on the side of the road at that point and the car was in the right lane, but it came right at me," he told the T station. "And the kid in the car, whoever he was, had the window down. He was screaming at me and I wasn't really paying attention to what he was saying at that point." A few hours later a group of men in a white car stopped in front of a tourist leaving Johnny's, a popular gay bar on Broward Boulevard.

The tourist was slightly intoxicated and the passengers in the car offered the man a ride to his hotel.

Instead they took him to a park, beat and robbed him.

Police say the white car may be the same vehicle as that used to try to run down the first victim.

If the attackers are caught they will be charged with a hate crime police said.
365Gay.com