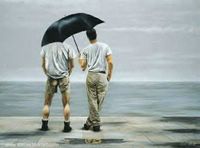 Thoughts and Reflections!
It's a cold Saturday morning here in Florida 55 degrees
but the sun in shining which is a good thing. I don't
miss the Boston "grey days" at all. I love living in
Florida but after 15 years, I still miss the cosmopolitan
essence of Boston and my best friend (who happens to
be straight and married with two kids) Jimmy.
I now live in a relatively quiet city on the beautiful
Gulf of Mexico. I've got two great friends Tim andVinny
but I don't see them as much as I'd like.
There's only one Gay bar, a sports type pub called
The Pro Shop. It's a neighborhood bar with not much
chance of meeting new people.
THE PUGS: I'm totally devoted to my dogs.
Daisy is nine and I've had her since she
was six weeks old. She's got the true pug personality.
Very smart, but stubborn as all hell. She always gets
her way and seems to run the house.
Muggs I adopted from the SPCA after he had been
removed from an abusive home. He is just a
"good ole boy" and very happy to be in a home filled
with unconditional love.
ON BEING GAY: The term bi-sexual makes my
(not much hair left) stand on end.
If you're having sex with men, you're GAY! AMEN.....
ON BEING "GAY OLDER": Most young gay men
today have no respect for age. Many older gay men
suffered extensive verbal and physical abuse in
paving the way for the acceptance you have today.
Respect us for that; as you pave the way for future
generations to have total acceptance......
oh, and as much as you want to deny it (I was there once),
you will someday be
GAY OLDER!
I once asked a 20 year old gay man what he considered
gay older to be! He said, "oh, anyone over 35 years old"!
ON INTERRACIAL RELATIONSHIPS: "Judge not a man by the color of his skin, but by his character!"