The motto the Mountie "always gets their man" was certainly accurate this weekend when two gay Royal Canadian Mounted Police constables were married in Yarmouth, Nova Scotia.
-A harp played and the couple couldn't stop smiling as they stood before family and friends to exchange vows of love and a lifetime of commitment. Then it was on to the reception where a white chocolate rose with a red tag sat on a red napkin at each setting.

That was how Jason Tree and David Connors, wearing their red serge uniforms, became the first same-sex Royal Canadian Mounted Police couple to get married.

The couple fiercely guarded their privacy and refused interviews either before or after their civil ceremony Friday.

The area of the Rodd Grand Yarmouth Hotel where the wedding took place was closed to the media and most guests refused to talk about the ceremony.

But for Ken Spragg, one of the guests, it was an important occasion that deserved mention.

"This is long overdue. I got to see them take the vows that other people have taken for granted for so long and so many don't understand what it means to have that opportunity," the 27-year-old Fredericton man said."The fact that they can do now what everyone else can do is really gratifying. It's great to see."

He bought the couple a special gift - two stuffed toys in red serge. "This is one more step to being treated like everybody else," he said as he held the little moose and bear in his hands.

Mr. Spragg is gay and said it is important to him that if he finds the person he wants to spend his life with, he can make his commitment legal in the same way as heterosexual couples.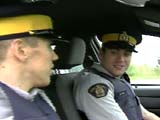 Russell Robicheau, another guest, said the ceremony was brief yet touching. The couple was surrounded by family as they stood in front of a justice of the peace and spoke the vows they had written. "It was not awkward," Mr. Robicheau said. In fact, he said, the ceremony was smooth and relaxed.

"They couldn't stop smiling. They looked great."He said their vows were direct and spoke of their love for each other and what they expected of marriage.

Murray Judge, a local Crown attorney, said it was like any wedding. Mr. Connors was the more nervous of the two, fumbling for the vows, which were written on a piece of paper in his pocket. "That's universal in any marriage ceremony," he said.

No guests wore their red uniforms, but Mr. Judge said the police presence was pronounced. "It's a room full of RCMP officers," he said. "The presence of the RCMP is in the people who were there."

The reception was in a room adjacent to where the wedding ceremony was held. "It's beautiful in there, just beautiful," said one employee who didn't want to be named. Another employee said they had all been forbidden from speaking to the media.

The candlelit tables were covered with black tablecloths and red napkins with little white chocolate roses bearing the couple's names on red tags.

The wedding was on the minds of many in Yarmouth on Friday. Indeed, Trina Deion said she's proud it happened in her town.

"I say good for them as long as they're happy. Good for them and I'm glad they did it in Yarmouth."


Gay officers tie historic same-sex knot at private Yarmouth ceremony
By BEVERLEY WARE Staff Reporter