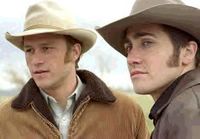 Brokeback Mountain has phenomenal opening

The long-awaited film version of writer Annie Proulx's cowboy love story, Brokeback Mountain, opened December 9 to long lines of moviegoers in three cities. By the end of the weekend it had broken box-office records and carried home some of the first major prizes of the year-end season.

Open only in New York, San Francisco, and Los Angeles—five theaters total—the Focus Features film raked in more than half a million dollars, for an average of $109,000 per location, the highest per-screen average for any movie released in 2005.

Directed by Ang Lee (The Wedding Banquet, Crouching Tiger Hidden Dragon), the film stars Jake Gyllenhaal and Heath Ledger as cowboys who meet on the titular mountain in 1963, where they spend a summer together herding sheep and discovering a mutual attraction they can't resist. The film covers the subsequent 20 years of their lives as they continue their secret affair through marriages, long distance, and fear of societal condemnation.
The Advocate December 12, 2005


The Los Angeles Film Critics Circle honored "Brokeback Mountain" on Saturday as the best film of the year, with director Ang Lee named best director.

Actor Heath Ledger, one of the two male stars in "Brokeback," received runner-up honors for best actor. The winner was Phillip Seymour Hoffman, who stars as gay author Truman Capote in "Capote."

On Sunday, "Brokeback" received eight nominations -- the most of any film -- for the Broadcast Film Critics Association's annual Critics' Choice Awards. In addition, the American Film Institute selected "Brokeback" as one of the 10 outstanding films of 2005.
Planet Out December 12, 2005