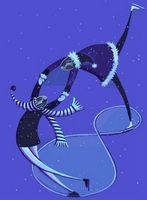 I've been running around in circles, doing figure 8's trying to get my life back on track after 15 days of working without a day off.
Although the vacation officially began last Saturday, I've been spending every day playing "catch up" on things I didn't have time to do when working.
Laundry had piled up embaressingly high, dry cleaning had not been sent out to say nothing about the overall condition of this house.
It seems that I've spent the entire week completing the above and trying to get some shopping done.
Going shopping in this state of confusion is a nightmare. I bought a DVD player which did not work so standing in line at the customer service desk for what seemed like hours. Bought another DVD player which also does not work. This was supposed to be for the bedroom where I have an older television. Now, after carefully reading the directions, I find that I have to purchase an additional component/adapter to be able to watch movies on this DVD player which is probably why the first one didn't work either. UUGH!
Additionally, I bought another gift which I was informed is a duplicate. That goes back tomorrow.
Tomorrow, I have to beg/pray/order platters of hors d'oerves for Christmas eve, and tomorrow evening I AM/YES I AM going out with friends. Thinking about Christmas eve, I still have to decorate, etc. There will be no tree this year. I'm not up to that emotionally yet.
Today, I was so tired I overslept and missed the annual Christmas party for my clients and their families. My boss will be livid, fortunatly she may have a chance to calm down before I retrun to work January 3rd!
The dogs, at least are happy with me being home. They want to play, play, play.... and I try!
Christmas day, I'm cooking turkey with all the trimmings again (the dogs don't eat red meat), which will be consumed sometime next week since we are spending Christmas day with my sister and her family. (at least I remembered to order the bird)
Next week, I'm doing nothing!