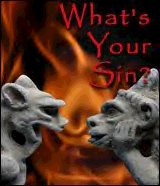 This is scary.... I'm a BAD, BAD, BOY and didn't know it; really, I didn't!
Take this test "if you dare"! Be even more daring and publish your results. I tried to be HONEST... maybe a little too honest? Below is my result.......

"Your sin has been measured. You have committed many sins, but Wrath is the mortal sin that has done you in. Just below, discover your full sinful breakdown and learn what it is about you that codemns you to hell."

| | | |
| --- | --- | --- |
| Greed: | Medium | |
| Gluttony: | High | |
| Wrath: | Very High | |
| Sloth: | High | |
| Envy: | Medium | |
| Lust: | Medium | |
| Pride: | High | |