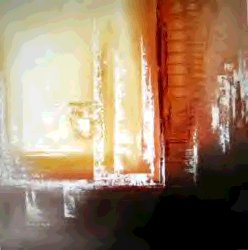 I turned my cell phone back on this afternoon and the first message was from my sister. "We're on the boat and going past your house!"
"Sorry, sis but the reason my cell phone was off is because I was attending a funeral."
Actually attending the third funeral this month. The third funeral in 21 days. One a week for the first three weeks of 2006. Two were clients, the third was the guardian of another client. Leukemia, heart attack, cancer........ in that order. None were over 60 years old.
Today was a beautifully warm day. The sun was shining, a gentle breeze over the Gulf of Mexico. I would rather have been boating, but you do what needs to be done......... and hope that this is the last time I'll be attending a funeral this year.
I've been employed in my present position for almost 5 years now....... and every day brings with it amusement, excitement, joy, disappointment, sorrow.

My clients are adults with developmental disabilities. Most have a primary diagnosis of mental retardation; many are also autistic, schizophrenic, or have a wide range of beharioral issues.

As senior case manager, my caseload consists of the most challenging. Many were former patients of Florida mental institutions until those institutions were closed and they were placed in group homes. There are always issues.

There is success. One of my clients is a male in his 30's who has never spoken a comlete sentence. He's echolalic ..... if I say "how are you today?" he responds "how are you today?"

A few months ago, I suggested that he might benefit from speech therapy and although it had been tried unsuccessfully previously, I asked that we try one more time. Last month, when he arrived at program I met him at his bus and he said "hi Don, I slept well last nite." At first, what he had just spoken didn't register until another staff member brought it to my attention. I sat down and cried. For the first time in his life, he had spoken a comlete sentence. Now every morning, he finds me and repeats that one complete sentence.
Nothing more, nothing less......... one sentence at a time.

Although many of our clients are physically fragile, we haven't had a death in my department until this year. I came back to work on January 3rd from my 19 day Christmas vacation to learn that one of my clients had died. It wasn't totally unexpected, she had leukemia...... nevertheless, it was sad and I remained busy counselling my other clients, my staff and her family.

We were just beginning the healing process when I came in to work last Tuesday to the ringing of my office telephone. Another of my clients had died during the night. This client had Cardio Obstructive Pulmonary Disease but had attended her training program the previous day and had been in great spirits. She died of a heart attack. Shock, tears, more counselling. Two funerals in two weeks..........

Today I attended a third funeral. One of my clients' mother died this week and was buried today. This was not unexpected, she had been ill for several months but my client who although in her 20's functions on the level of a four to five year old, seems unaware of what has actually happened. While her aunts were heavily mourning, surrounded by a large group of attendants, my client was looking around...... and spotted me; not at all difficult since I was the only white man in attendance. Her face lit up in a wonderfully sad smile and she waved. I smiled back, and couldn't wait to give her a hug as soon as the service ended. I held her until they assisted her into a waiting limousine....... she continued to wave as they left for the cemetery. I hate funerals, today I am so glad I was there, for her; for myself.