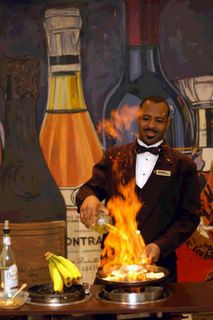 What is Bananas Foster?
Created at New Orleans's Brennan's Restaurant in the 1950s, this dessert consists of lengthwise-sliced bananas quickly sautéed in a mixture of rum, brown sugar and banana liqueur and served with vanilla ice cream. It was named for Richard Foster, a regular Brennan's customer.

Bananas Foster is an elegant dessert, and would be perfect to serve at a special brunch or dinner party.


Ingredients:
4 oz. (1/2 stick) butter
1 cup brown sugar
1/2 teaspoon ground cinnamon
1/4 cup banana liqueur
4 bananas, cut in half lengthwise, then halved
1/4 cup dark rum
4 scoops vanilla ice cream

Instructions:
Combine the butter, sugar, and cinnamon in a flambé pan or skillet. Place the pan over low heat either on an alcohol burner or on top of the stove, and cook, stirring, until the sugar dissolves.

Stir in the banana liqueur, then place the bananas in the pan. When the banana sections soften and begin to brown, carefully add the rum. Continue to cook the sauce until the rum is hot, then tip the pan slightly to ignite the rum. When the flames subside, lift the bananas out of the pan and place four pieces over each portion of ice cream.

Generously spoon warm sauce over the top of the ice cream and serve immediately. Makes 4 servings. This all sounds a bit "scary" but trust me, you are really gonna impress those you care about!
On the other hand, you might not want to try this. Might I suggest you get yourselves over to New Orleans and pump some money into their economy instead? It's the only way they're gonna get back on their feet!