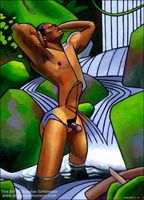 The beginning of Hurricane Season!

I was awakened at about 2:30 AM by the sound of thunder, followed closely by Muggs barking up a storm of his own. I walk to the window to see that it's pouring out.
I pick both dogs up and get back to bed. I know I have to go to work today, but
I'm not resetting the alarm. I'll go to work when I wake up, and if it's not raining! It's just one of those days.
I finally get up at 7:00AM and get to work by 10. I usually begin work at 8:00AM.
It's June 1st., and the start of hurricane season. Time to check batteries, stock up on water, canned goods, candles, etc. I think back to last year's hurricane when we had no electricity for five days. This is not my favorite time of year!