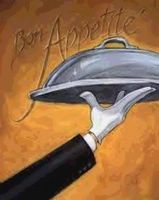 For 26 years, Zagat surveys have been inviting diners to comment about restaurants.
The company publishes guides in 70 major cities and includes ratings on food, decor, service and cost.
People prize the publications for their honesty; but some reactions are just too rude to include.
Here are some of the funniest!
THE FOOD:
"Makes hunger an attractive alternative."
"The food fills you up - if you can keep it down."
"Underneath the BBQ sauce, expect any number of surprises, from the unrecognizable to the undead."
"Ordered the chicken, but whatever it was, it wasn't alive in my lifetime."
"Took a doggy bag home; the dog refused it."
"Saves fuel bills – the heartburn will keep you warm all winter."
"Grandma cooked like this, grandpa died young."
"The quiche of death."
"'Breaking bread' should not mean you have to use the side of the table."
"Duck must have had a long flight – tired, tough and took 90 minutes to arrive."
"Suffers from delusions of adequacy."
THE RESTAURANT:
"Be sure to sit in the no-shooting section."
"If this place doesn't get you laid, nothing will."
"Abandon taste buds all ye who enter here."
"The roaches always get the best seats."
"Should shut down the restaurant and just serve the view."
THE STAFF:
"Better service in a self-help gas station."
"Good seafood, but the waiter should be used as fish bait."
"Service was slower than geology."
"Waitresses look like they belong on the pro bowler tour."
"The staff is as pleasant as a truck driver with hemorrhoids."
Parts published in the
St. Petersburg Times
10/18/2005
Zagat.com