LAISSEZ LES BON TEMPS ROULER!
Better than 90 percent of French Quarter shops, attractions, hotels, restaurants, clubs and nightspots are recovered and reopened after Hurricane Katrina. Antoine's, Galatoire's, Broussard's, Palace Cafe, Morton's, and Arnaud's recently joined the "ready for you" list".

The Quarter is primed, polished and eager for the extra guests expected for Mardi Gras 2006. The Carnival season officially began with Twelfth Night January 6 when purple, green and gold King Cakes, flags and banners appeared all over town. Now, there are only a few days left til Fat Tuesday.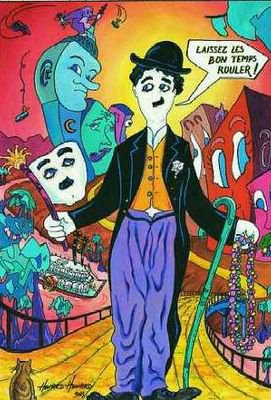 The 150th anniversary celebration of New Orleans' signature event, which began Friday, is smaller than usual, but many say the eight days of revelry are the cornerstone of the city's reconstruction. Civic leaders hope that by the time people gather for Fat Tuesday, Feb. 28, it will be clear the Crescent City is back.

The krewes that run the floats take their names from Greek, Roman and Egyptian mythology. Some poked fun at FEMA and elected officials.

One, with a giant head of a Roman emperor, proclaimed, "The federal government: They fiddle while we drown." Another, laden with a group of cartoon characters, was labeled "Levee Protection, a real-life fairy tale."

"New Orleans is Mardi Gras, and Mardi Gras is New Orleans," said King Logan, a leader of a krewe called Rex, whose 27-float caravan, set to roll on Tuesday, will be this year's biggest.

Rex craftsmen put the finishing touches on 18-foot-high images of kings and giant animals in a warehouse where a human body was found floating in floodwater after Katrina.

A group of students from the MAX, a new school serving kids who normally attend three local high schools now temporarily closed, marched Saturday, even though several had lost their homes and some lost loved ones to Katrina, said music director Lester Wilson.

Before Mardi Gras, organizers scrambled to clear abandoned cars along the parade route and to find high school bands and krewe members who scattered across the country.

Many organizers and participants said the event is too important to the city's economy to cancel. "If Mardi Gras were not to happen, we would struggle to pay our police, fire (and ambulance) services for months to come," said Kim Priez, vice president of the city's convention and visitors bureau.
About 25,000 hotel rooms are available and more than 760 restaurants are open, compared with pre-Katrina totals of 38,000 rooms and 3,414 restaurants. Mardi Gras usually draws more than 1 million people and generates more than $1 billion in business in New Orleans. The celebration, usually 12 days long, normally accounts for 40 percent of the city's annual tax revenues.

"We've got to prove to the world that we are open," said Jim Funk, executive vice president of the Louisiana Restaurant Association.

Peter Frank, editor-in-chief of Concierge.com, a New York-based Web site catering to luxury travelers, said a successful Mardi Gras and JazzFest, beginning in April, have a good chance of reviving the city's status as a worldwide vacation destination.