PHOENIX RISING
My first recollections of Mardi Gras date back to before most of my readers were born....

I was a young child, living in true Acadian country...... New Brunswick, Canada. We lived in a small parish (too small to be called a village) of about 200 families.

There were no fancy balls, grandiose parades; but we masked, we partied, we danced. I was from a deeply religious family (times do change) and this was the last day to party before the beginning of the lenten season.

At the age of seven, we moved to the United States..... Boston to be exact.

Mardi gras was replaced by Halloween and it wasn't until many years later; when I began visiting New Orleans every three or four months, that Mardi Gras began to have major significance again.

PHOENIX RISING!

The revitalization of New Orleans, rising again like the Phoenix from cinnamon ashes; this year's poster by artist Sandy Mistretta shows the face of hope during this the 150th year of celebrating Mardi Gras in New Orleans.

New Orleans will indeed rise from the ashes; keeping the promise of past blues and jazz greats, the charm of the French Quarter and the undying heart of a great people who call New Orleans home.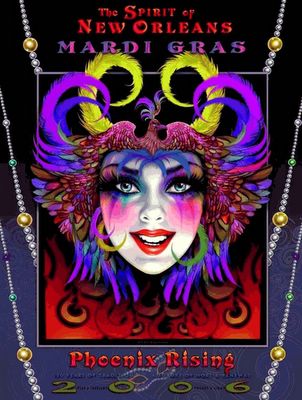 This is the weekend I would normally be in New Orleans as part of the Mardi Gras celebrations without being there for the massive crowds that surface for the weekend leading up to Mardi Gras.

This is the weekend when I would reunite with my friends; Paul from New York, Joey from Jacksonville, Bob and Rudy from Denver or my friend Tim here in Clearwater.

This is the weekend of my favorite parade, the Krewe of Barkus.

As the dogs get older, I'm more relulctant to leave them home (even with a sitter), and I already have a commitment in New Orleans in March; but I will be celebrating Mardi Gras here in Florida, and on this blog!